WHAT IS HAPPENING AT THE FREE MINT?
This WEDNESDAY DEC 6th at 8pm UTC
Mint the Loot NFTs HERE
Grab Your Rewards HERE
Join the Party HERE and start Opening Card Packs!
Facts:
✔ Free Mint of 2000 LOOT NFTs. Betw 2-6 Card Packs redeemable per NFT.
✔ Over $16,000 Instant Rewards. 28,000 WOR Cards etc. Rarity Chart below.
✔Warm-up for the Vampires Mint of stakeable Membership NFT's on Dec 9th
✔ Mint is open for 48h.
✔ World Premiere of Legendary Card Packs. The highest tier of Card Packs are available.
✔ Introducing Divine Cards. The highest tier of Cards is now available.
Join the party, this Wednesday, Dec 6th, 8pm UTC on the WOR Discord. Let's open a ton of Card Packs and see who will be the lucky one to pull the first Divine Card! And to tie it all together check out the "Rarity & Rewards" chart of what you will be getting for free, as an introduction to the Wolves Of Rome!
Rarity & Rewards Chart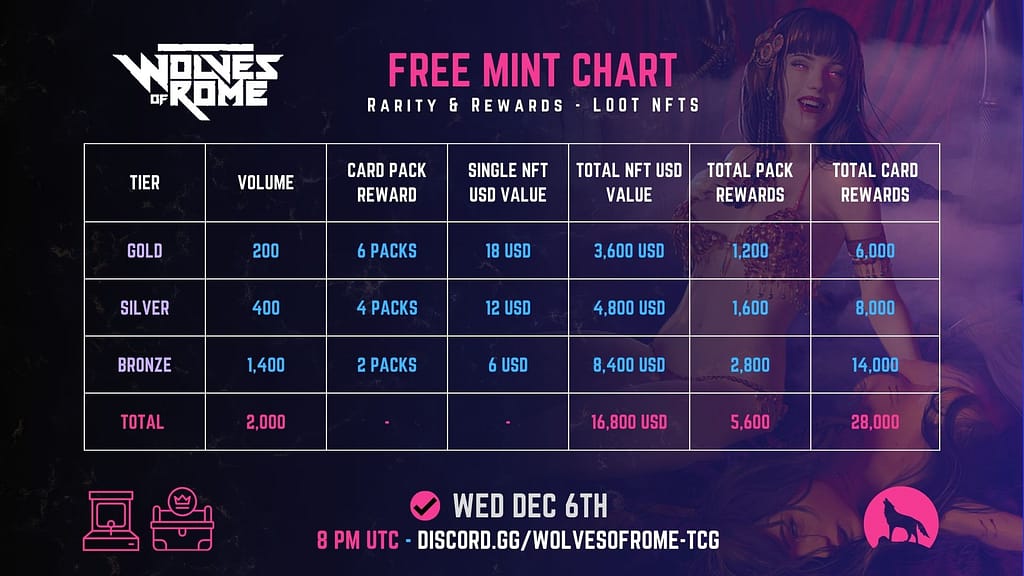 3 Tiers of Free Mint Loot NFTs
This Free Mint is an introduction to the World of the Wolves Of Rome.
The different NFTs will each give you access to a certain amount of Wolves of Rome Card Packs. Of course depending on the tier of the NFT. You mint these cool Card Packs which contain Real Card Packs. They are instantly reedeemable in the Hub.
And dont miss the week after that. That's when the fun really begins…
Brace Yourself! Saturday Dec 9th.
Vampire Membership NFTs are coming!
With Insane Passive Rewards & Even More Insane INSTANT Rewards!
For Full Staking Rewards go here. Instant Rewards will be announced next week Dec4th.